Their adorable eyes, plump skin, and innocent look—kids have their own way of making everyone's heart melt towards them. If you are a parent, you surely want to do something to keep your little one's sweet smile. We at Kiddie Cavity Care & Orthodontics can help you big time! Our goal here is to provide quality oral health care to children. We offer various dental procedures from general dentistry to sedation. As part of our oral hygiene instructions service, we listed down the essential tips to maintain our young patients' oral health in tip-top shape.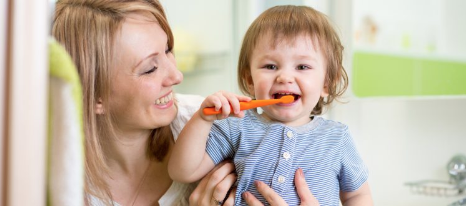 Caring For Infant's Smile
Most parents think that caring for their newborn babies' smiles is not necessary because of the absence of teeth. In reality, infants have pearly whites lying beneath their gums already. These teeth will eventually start to emerge after a particular time—usually around six months. Taking everything into consideration, giving their oral health the right care is a must.

First, parents need to halt the occurrence of bacteria in their child's mouth. Since the baby bottle can be a source of tooth decay, make sure to not leave it inside your little one's mouth for a long time. After feeding them, do not let excess milk cling in their gums. Using a clean, damp washcloth, wipe their soft tissues gently. Once their teeth start to become visible, you can begin brushing them. There are specific toothbrushes designed for babies in the market. You may use a finger brush for convenience. During this time, however, only a very tiny smear of fluoridated toothpaste is allowed to be used. See to it that the amount to be used comes in size similar to a grain of rice.


Caring For Children's Smile
When your kids reach the age of three, they are subject to upgrade their oral care routine already. It is during this time that their primary teeth have completely appeared in their mouths. Remember, these pearly whites play an essential role in the growth of the permanent teeth so caring for them is a must.

Allow your child to brush their teeth using a fluoridated toothpaste and toothbrush with soft bristles. Note that the toothpaste should only be in a pea-sized amount.
They should keep up with their regular dental visit every six months.
When cleaning their teeth, ask them to include those located at the back where cavities commonly form.


Above all, let them avail of the add-ons under our General Dentistry services in Washington, DC which are all useful in protecting their overall oral health. If you want some information regarding this, talk to us at Kiddie Cavity Care & Orthodontics.